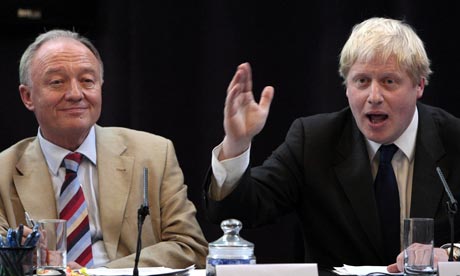 You can almost hear the anxious intake of breath in camp Bojo along side a sigh of relief at camp Ken given the headline for the latest Mayoral election polling:
Ken Livingstone and Boris Johnson are locked in an extraordinarily tight race to be London's next mayor, according to an exclusive Guardian/ICM poll of the city's voters. The battle for the biggest directly elected job in British politics could hardly be more dramatic, with Johnson holding a wafer-thin advantage over his Labour opponent.

The poll – the only one carried out by a national newspaper using established techniques – suggests Johnson could pull off a sensational victory on May 1 over the incumbent Livingstone, who won comfortably in 2000 and 2004.
If this poll is too be believed then Bojo's lead isn't quite what it seems and he needs all the votes he can get.
---
Filed in:
Current affairs
,
Party politics