LOLcat, if you don't know, has become a popular internet phenomena where pictures of cats are given speech bubbles with funny messages in pidgin English. Sometimes, pictures of cats are super-imposed on random pictures too. See: Icanhascheezburger
I have a new suggestion. LOL-blair. In this game we find pictures of Tony Blair from his latest new and exciting plan to change the world, write funny captions, and then speculate on what he's going on move on to next.
Here's the latest in this saga. First he wanted to bring peace to the Middle East. We're all aware what a great success that has been. Then he wanted to become president of the European Union, until Angela Merkel shot down that plan.
Update, via OurKingdom, here are other things Blair has been up to recently:
- signing a million dollar contract at JP Morgan;
- accepting a role as a Rwandan advisor,
- accepting a position on the Africa Progress Panel;
- accepting an advisory position at Swiss insurer Zurich,
- taking up an interfaith teaching position at Yale (linked to the upcoming Tony Blair Faith Foundation).
Then he was seen cavorting with the ethnics, possibly to bring racial harmony to Britain.
Now, it looks like he is going to sort out our global warming problem. This surely is evidence that we are all doomed and the environment is going to degrade faster than relations between Israel and Hamas.

Once again – best caption, preferably in pidgin English – wins a prize. This time I'll actually mail you a book.
UPDATED – NEW ENTRIES
———–
———–
———–
———–
Barney:
———–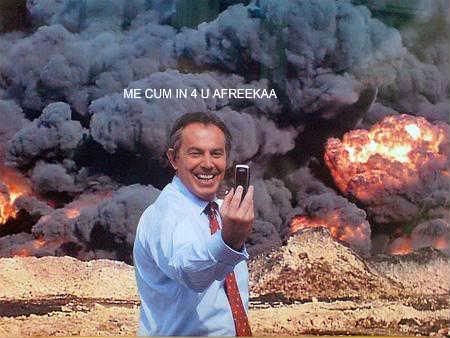 ———–
———–
———–
Cloned Poster made this:
———–
by Einna
———–
Soru
———–
Katy Newton jumps on bandwagon!
———–
———–
———–
———–
Tips:
There's images here of Blair if you want inspiration.
You can use this online form to upload pics of Blair and put captions on them.
---
Filed in:
Current affairs
,
Environmentalism
,
Humour